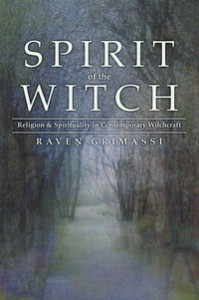 In this one-of-a-kind guidebook, award-winning author and scholar Raven Grimassi presents an insightful portrait of the spirit of the Witch. He explores the spiritual element of the rituals, practices, and beliefs of Witchcraft, and how these elements apply not only to the seasons of nature, but also to the mystical seasons of the soul.
Literate and positive, Spirit of the Witch examines the oral tradition of Witches, as well as the cultural, literary, anthropological, and historical roots of Witchcraft. Revealed within these pages is the fascinating secret life of the Witch-guardian of the sacred mysteries, channel of magical forces, and keeper of the doorway between worlds.
Spirit of the Witch was written to convey the religion of Witchcraft as a spiritual path. In this book the reader will discover the spirituality of being a Witch (the Witch in Moon light) and how to apply that to daily life (the Witch in Sun light). Spirit of the Witch is a personalized examination of the core essence of practicing Witchcraft and honoring its beliefs. It is the first book written solely on the topic of spirituality in Witchcraft.