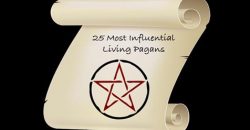 Much to my surprise I received today what I feel is a great honor.. I was listed in the "25 Most Influential Living Pagans" posted on Patheos.
The timing on this is interesting. Recently I did a couple of workshops, and most of the attendees were young people. It was an odd feeling to realize that I have been practicing Witchcraft for more years than they have been alive. Where has the time gone?
My life's work has been devoted to trying to help people understand and embrace the powerful spiritual lineage we all share. I have tried to be part of the work to uplift our religion/spirituality and secure our rightful place among the world religions and spiritual systems.
It hasn't been easy, and it has cost me much in terms of losing important relationships, enduring personal attacks, and missing out on many of the pleasantries that are enjoyable in Life because my work was a priority.. That being said, I'd do it all over again.
While I never sought out notoriety, I have to admit that the respect of my peers is a true treasure. It doesn't get any better than that.
So yes, I feel very honored today to find my name among other authors and elders whose work I respect. Makes me think that maybe my own work has been of some value to others along the way. That is a wonderful thought.
Registration is open!
Session begins on September 1st.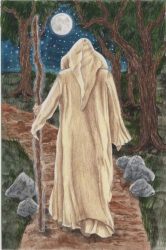 Most people will agree that our soul preexists our body. In other words, we existed before we were a fetus in our mother's womb. New Age philosophy introduced the idea that were are born with everything we need to know, and that all we need do is turn inward for the answers and the direction we seek.
But if so, then that would be true of our soul even without a body. In other words the soul already possesses what it arrives with in any flesh incarnation. So IF we embrace the idea that we already contain the answers and direction within, then why do we incarnate in the first place?.
The Inner Mysteries teach us that we are here to find our purpose, and then to devote ourselves to fulfilling that purpose. This requires the soul to experience a finite and chronological reality, the material plane of existence.
Consider this, if we are dreaming of building a chair it is unlikely that the chair will be completed. The hammer or other tool we use could turn into a cell phone and then we are calling a friend. We go off to find the friend but can't, and a number of other things take place. This is called the dream mind consciousness.
The dream mind is the natural state of consciousness for the soul. It is adaptable, fluid, and attuned to shifts and transformation that it readily accepts and acts upon. The soul is at home in this mentality. It does not think in terms of chronology, consistency, cohesion, or linear reality.
In material reality we CAN build a chair, we can complete the process. There is a practical functionality in the material mentality that is absent in the dream mind mentality. Each of these realities serve in the own way, but the ways are different and have their own unique importance and application.
When a soul is encased in a material body it becomes subject to the ways of material existence. It learns how to integrate the practical values of material existence with the experience of its non-material existence. It learns to become a composite being capable of both linear and non-linear processing, thought, application, and creation. This is the education of the soul.
Through this it comes to realize "purpose" and how to apply it as it remains cohesive within the soul's consciousness. Without the influence of material reality the stream of consciousness would wander off to other unrelated things.
Are you interested in finding your purpose? Are you interested in learning how to integrate material and non-material reality to aid in your soul's education, growth and evolution?
Come join us on a Path to your own self-discovery. This month of August is open enrollment in a Home Study Course on the Inner Mysteries. Lessons begin in September. It is a 7 month Course of Study with lessons delivered by email attachments. Members are provided with a private FB Group for further discussion and exploration of the lesson material.
For more information just follow this link:
http://www.ravensloft.biz/inner-mysteries-course-of-study-c…