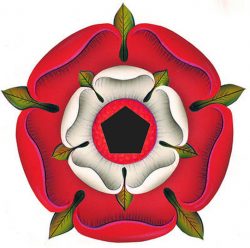 This stylized sacred rose is a symbol of the Ash, Birch and Willow tradition. It encapsulates the Enchanted World View of ABW.
The red petals represent the material reality, and the white petals represent the Otherworld reality. ABW works with both planes of existence. In the center of the rose is a pentagon shape that symbolizes the Organic memory of the Earth, which is the "Spirit of the Land" counterpart of the Akashic records.
The outer leaves, forming a five-pointed star, represent the powers or skills of the Witch. These are the areas of training for members of ABW:
1. Herbalist
2. Seer
3. Spirit Medium
4. Mystic
5. Magician
The inside leaves form a reversed five-pointed star, and represent the mindset of what ABW bestows to its members:
"I am a thorn-blooded witch, the knower of plants.
I am the seer of all that approaches,
And hearer of the whispering dead.
I am born of this word, but am not of this realm.
And I wield the forces that move all tides and seasons."
This month of May, you can register for a Home Study Course in the Ash, Birch and Willow tradition. This is a 9 month long Course of Study with monthly lessons sent by email attachment. There is also a study group on a private Facebook Group Page, which allows for discussion and Q & A..
Registration ends May 31st, and lessons begin in June.
For more details follow this Link:
Don't miss this unique opportunity to increase your knowledge and understanding of the nourishing roots of Witchcraft, Wicca, and Paganism. Register today!