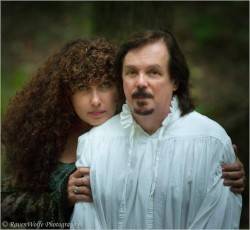 Would you like to have Raven and Stephanie at a town near you?
We travel all over the country and would love to meet you at one of our many events.
For more information about requirements for a workshop event
or festival please email: Stephanie@HouseofGrimassi.com
Appearance Schedule for 2018
Thursday, April 5th – 7:00 to 9:30
Workshop: Empowering Ways of Old Magic
The Robins Nest * Bellingham, MA * 508-244-4881
---
Saturday, April 21st- 11 to 4pm
Oracle Readings with the Well Worn Path & Hidden Path decks
Raven and Stephanie read with their own decks as a couple.
The Robins Nest * Bellingham, MA * Call: 508-244-4881
---
Saturday, May 5th * 9 to 6 pm
Brid's Closet presents Brid's Closet's:
Palaia Winery * 10 Sweet Clover Rd, Woodbury, NY
---
Friday, May 11th * 7 to 9 pm
Workshop: Spell Casting, the Art of Magick & Protection~Raven Grimassi
Pandora's Box * 209 W Thames St, Norwich, Connecticut 06360